Like most fields in the market, the book publishing industry has been very competitive, so it's a challenge for authors and publishing agencies to keep themselves relevant. Writers and graphic designers are advised to step up their game, especially in making their book stand out, even in the tiniest detail. Since a book's overall visual structure matters a lot in the market, authors aim to make their books look great not only on the outside but on the inside as well. This is how a book page mockup started to exist.
If you're having a hard time coming up with ideas on how your book pages should look, don't worry because we have the answer for you! Here at Book Mockup, we have a collection of book page mockup designs that are fit that you can use. So, stop torturing yourself and achieve a professional-looking book with our book page mockup templates.
A Curated Collection of Book Page Mockups
On this page, you will see a large collection of book page mockups both created by us and found elsewhere on the internet. This exhaustive collection provides easy-to-use Photoshop Mockups for any type of book page you are promoting.
Click the download book page mockup button to either download or go to the page where you can purchase the item.
Blank Book Page Mockup
This mockup can help you showcase your book spreadsheets' layout design and content in a photorealistic and creative way. It is customizable via smart objects and will give your audience a preview of how the pages are going to look like in real life. This mockup is free is go download it now.
Book Page Mockup with Fruits and iPad
If you are looking for a mockup that offers a variety of objects and not just a book alone, this book mockup is the best choice. It features not only the open book but also an iPad, business card, fruits, plate, glass bowl, thumb pins, paper cutter, and a pen which placed in separate folders so you can adjust the shadows and effects of each item individually. Aside from this, you can also move and remove any of the items to make new compositions.
Book Page Mockup with Music Elements
This mockup is the best choice if you want to incorporate music with your book presentation. This mockup has an editable blank page of an open book to showcase your artwork or creative design with music elements around it. You can place logos and images and edit them using the smart objects for Photoshop.
Book Page on Brown Background Mockup
Here is an eye-catching book mockup to showcase the inner pages of your book or your branding design. You can also use this to have your audience focused on a special font that you are using for your book and can also attract possible readers. Download this book mockup now for your next book project. 
Open Book Page with Coffee, Clips, and Pen Mockup
This mockup features an open book and blank page with editable content and desktop objects. It has smart objects so it will be easier for you to place your design. This mockup can be edited in Photoshop using the editable layers of movable and scalable props. So if you want to get a realistic presentation of your book, purchase this mockup now. 
Empty Book Pages on Pink Background Mockup
Here is another empty open book mockup to help you present and showcase your book spreadsheets layout design and content in a photorealistic and creative way. A mockup tool that you can use to create a realistic book presentation showing off the pages in just minutes. Download this mockup now. 
Opened Book Page Mockup Illustration
This is a photorealistic book mockup that will allow you to showcase your interior book content and help your client envision your idea. Using this mockup can also set your design apart from the rest. Go purchase this well-designed mockup and start working on your next book presentation.
Top View Book Page Mockup
Use this book mockup to give your audience a preview of the inner pages and content of your book. If you're looking for the best templates to use, this book mockup has a super simple background to ensure that the focus is on the book cover.
Comic Book Page Mockup
Are you looking for a new design idea to showcase the inner page of comic book? Here is a mockup that can be helpful for you and will make your work much easier. This will allow you to create a colorful design that your potential client will surely love. Go download this mockup now. 
Book's Pages and Cover Mockup
Here is a book mockup that will allow you to present both the cover and inner pages of a book. A simple and realistic display of the exterior cover and inner pages of a hardcover book. What a great tool to use that can show off your talent and impress your potential client. 
Paperback Book & Inner Pages Mockup
This mockup features a paperback book mockup with open book inner pages. To create a beautiful realistic presentation, just place your book cover design & inner pages on smart layers. You can change the background color according to the book cover design and place the texture for a realistic look.
Close-up Book Page with Pen Mockup
Here is a mockup of an open book and great detail in the close up that gives your book all the space to stand out. This book mockup is suitable if you want to showcase the inner content or special font of your book. A very realistic book presentation awaits you upon using this mockup. 
Vintage Book Page Mockup
Another special and unique way to present your book is using this mockup. This is perfect to showcase the design of book pages and its cover. The vintage candle stand makes the mockup scene look more realistic. For the replacement of the design you can use the smart object option while for the rest of customization you can use the intelligent layers.
Top View Left & Right Inside Book Pages Mockup
This mockup will allow you to showcase your interior book content. You can add your own custom background behind the book by simply toggling the default white background layer and place your own desk, shelf or outdoor image behind the book. In addition, highlights and shadows each appear in distinct layers which can be further modified to suit your needs.
Blank Book Page Mockup Template
This mockup displays a simple empty book page or the inside pages of books. It's high resolution which will make your final presentation look simply fantastic. Also, its photorealistic appearance will help you give a realistic preview of your design to your clients. If this is the style you are looking for, waste no more time and download it now.
Open Square Book Pages Mockup PSD
Here is a mockup to showcase the inside page design of your square book. A classic, simple, minimal-looking, and beautiful mockup that will help you show off your talent as a graphic designer. This is the perfect choice if you are looking for a book mockup that's clean and modern with a crisp look. 
Hardbound Book Center Page Mockup
This mockup can be used to promote a children's book. If you want to showcase the illustrations, artwork or drawings inside the book, then this will be very useful for you. By using this mockup, you will be able to create a photorealistic presentation of your book.
PSD Book Cover & Pages Mockup
Another mockup featuring the book cover & pages to showcase your book design. Use this mockup to present your book design in a professional and realistic way. You can use the smart layers to place your design and every object is movable and toggled on/off.  If you want to replace/edit this mockup, you need to open file with Adobe Photoshop cs6 or higher version.
Open Hardcover Book Page Mockup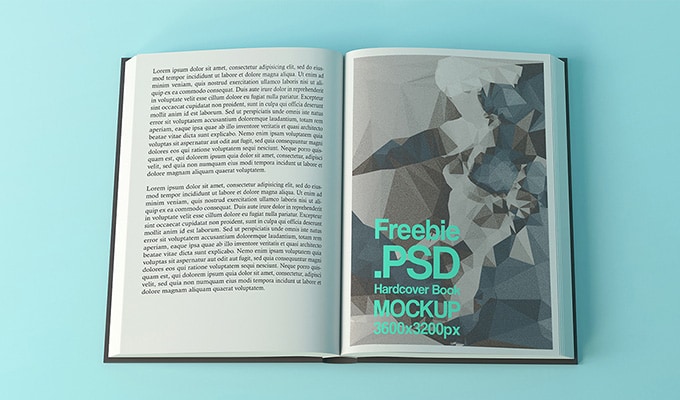 Here is a realistic-looking mockup perfect for showcasing both your book pages and its contents. The download contains fully layered PSD file with smart-object layers for easy replacing of your designs on both the pages separately. This would be a very helpful and useful mockup for both designer's and book authors. 
Book Page PSD Mockup
This book mockup will allow you to showcase your interior book content. Using the smart-object layers, you can full customize the pages within the book. So if you are aiming for a realistic look for your book promotion or to simply show off your skills and talent, download and use this mockup now.
Book Page Conclusion
Get a little creative help with our complete collection of book page book mockups! Whatever creative direction you have in mind, we got you covered. From simple to most elaborate, we've got everything that would wow you or your clients' needs. Just hit that download so you could get started!