Comic books and graphic novels have been bringing joy to many generations that have passed. Although we've entered the digital era, physical copies of these books are still making their way into the hearts of many. Authors and illustrators are continuously stepping up their game, finding methods to innovate their stories and style. On the other hand, publishing companies are challenging themselves to form a printed version that would attract their target audience, whatever their age is. To complete their design and get them ready for display, it's no surprise that a wise graphic designer would make use of a comic book mockup.
Book mockup has a collection of high-quality comic book mockup templates which will save you from the trouble of finding the right mockup. Scroll through and pick one that'll suit your taste.
A Curated Collection of Comic Book Mockups
On this page, you will see a large collection of comic book mockups both created by us and found elsewhere on the internet. This exhaustive collection provides easy to use Photoshop Mockups for any type of comic book you are promoting.
Click the download comic book mockup button to either download or go to the page where you can purchase the item.
Comic Book Left & Right Pages 
This left and right book page mockup is a product shot of an open comic book on a flat surface shown in a white background. This PSD mockup applies your design onto both left and right pages of this mockup which represents a book or graphic novel. All shadows and highlights remain fully modifiable by the designer. 
Comic Book Front Cover 
This book front cover mockup is a standing comic book product. It is shot rotated to 45° with the pages facing outward to the viewer. This PSD Mockup renders sketched or scanned 2D artwork onto a standing book product with basic shadows and highlights. The final result is a typical Photoshop document with multiple editable layers for the designer to further customize to their liking.
Open Comic Book 
This open book mockup is a saddle-stitched standard format set to showcase your front and inside pages in a single shot of your comic cover design project. Once you download the file, there are two alternative mockup renders, plus a ready-made PSD template to be used with the actions. 
Comic Book on a Flat Surface 
This mockup is on a flat surface with a slight rotation. This PSD Mockup applies your comic book's artwork onto a graphic novel or book style product laying on a flat surface.  This mockup simulates a mint condition comic book (as is evident by the spring in the pages, aged comics tend to flatten over time).
Comic Book Centerfold 
This comic centerfold mockup is on a flat surface open to the middle page. This PSD Mockup maps scanned or drawn artwork onto a comic on a flat surface with the pages facing upward. This action can also be used to simulate graphic novels which are not much thicker than a standard comic. 
Comic Book Cover 
This book cover mockup is a front view of a generic comic book. This PSD Mockup will render your 2D book cover art onto a standing, forward-facing comic book product shot. This book action mockup takes an average of those variances to accommodate everyone. Smart object layers included.
Comic Book Laying on a Flat Surface
This mockup is a combination graphic novel or comic book laying on a flat surface facing up. This PSD Mockup renders your artwork or scanned material and renders it onto a product shot of a book opened to the center page. The resulting PSD document which this action generates will contain multiple editable layers which you can modify to control the shadow and highlight intensity. 
PSD Comic Book
This book mockup PSD shows the front view of the entire design. Comic books come in many shapes and sizes, the most popular and recognizable of these is typically about 6.75in x 10.25in after they are trimmed down (the bleed get cut off). Smart object layers included, it's shown in a white background but is actually transparent. 
Comic Book Spread 
With the book spread mockup, you can create your own brand on your comic books. Make them truly yours and set them apart from the competition. The mockup comes in PSD format for easy editing with Adobe Photoshop. Moreover, you can also customize each individual detail of the mockup using smart layers!
Comic Softcover Book 
This softcover book mockup is specially catered to young children. This definitely isn't your typical comic book design! The cover definitely stands out, so it's great if your actual cover is similar to this one. The shadows set a photorealistic tone to the whole design, and the wooden wall background can be customized using smart object layers. 
Comic Zoom Cover Book 
This high-resolution comic zoom cover book mockup is the pink mockup design of your dreams! Although the texture and background colors can still be customized via smart object layers, it's kind of already perfect in itself. It's fully editable, with organized layers and folders. Great for a feminine book!
Comic Book Speech Bubbles 
Do you want your comic book cover design to be explosive? Then this particular will deliver your explosion needs! It features bright colorful book speech bubbles depicting a variety of sounds, star bursts, a burning bomb, and a dynamite. You can add your own personalized touch to the whole design, or you can leave it as it is. Totally up to you! 
Comic Book Cover
This book mockup cover has a saddle-stitched design. If you want to show off your book exterior front cover mockup, this is a great choice. It has a default starter template included in the download, and the smart object layers allow you to have an easy editing experience! Perfect for beginners and pros alike. 
Comic Book Stack Mockup
This stacked mockup design is stripped bare of elements. It is perfect for those who just want a simple template to work and add their own elements to the whole design. The shadows already depict a photorealistic tone to the mockup, and once the final design complete, we're sure it's gonna shine! 
Front Facing Comic Book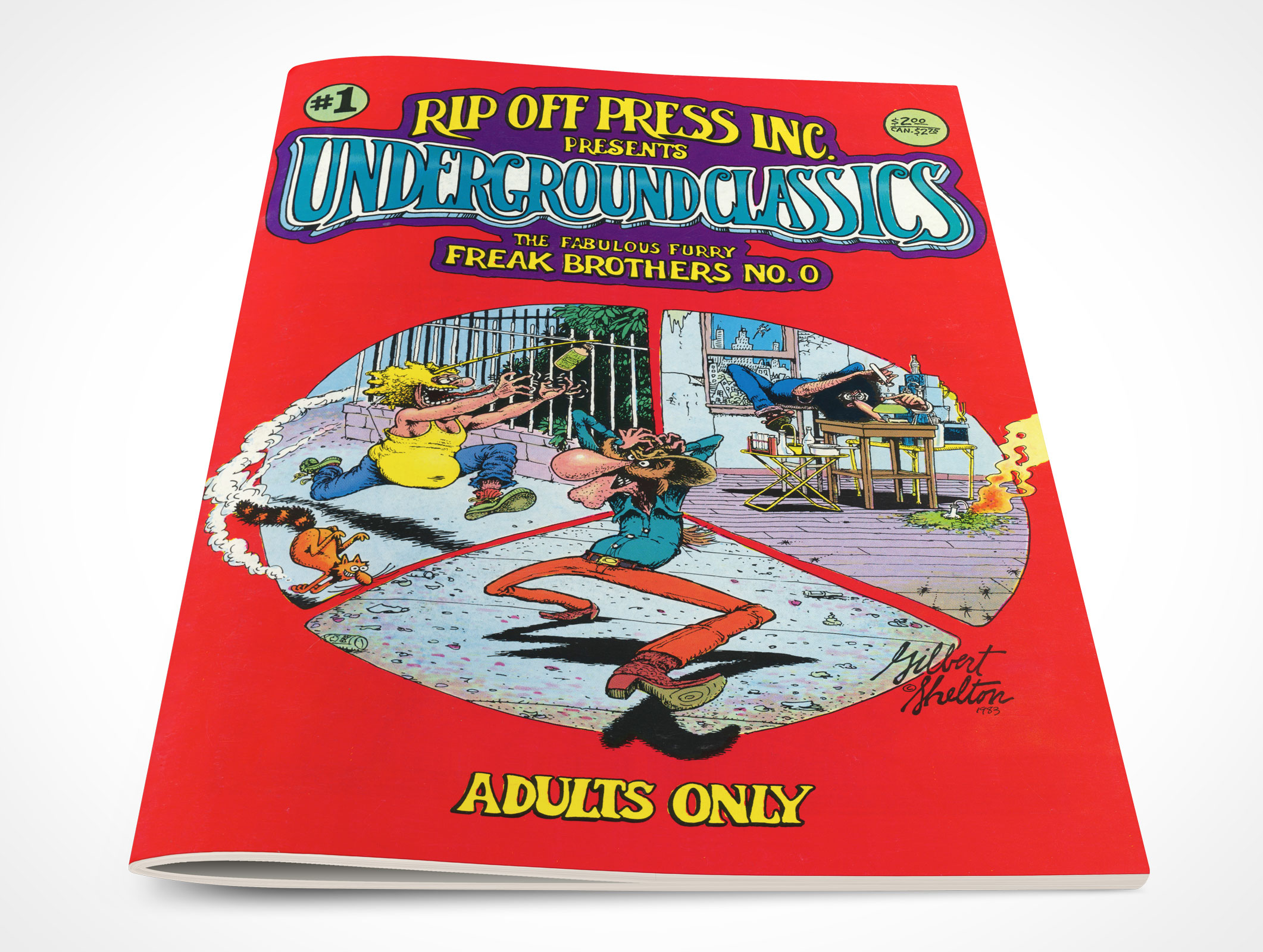 This front-facing PSD Mockup renders your sketched or final books or graphic novel designs onto a book laying on a flat surface with a view looking down from 30°. This mockup represents a newly printed book which is evident in the curve of the cover of the book and the spring in the pages (older comics lose the gap seen at the centerfolds).
Comic Book Conclusion
Get a little creative help with our complete collection of comic book mockups! Whatever creative direction you have in mind, we got you covered. From simple to most elaborate, we've got everything that would wow you or your clients' needs. Just hit that download so you could get started!